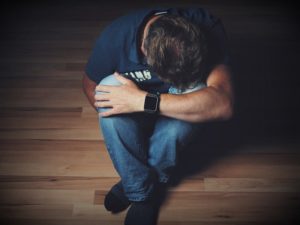 Depression is classified as a mood disorder, and it can be effectively treated.
       

Do you recently feel sad?

       

Has anyone commented that you seem more irritable lately?

       

Do you feel tired?

       

Have you been avoiding social interactions?

       

Are you no longer finding things enjoyable that you once enjoyed?

       

Do you find yourself falling asleep during the day or find difficulty sleeping at night?

       

Is the thought of getting out of bed in the morning daunting?

       

Have your eating habits changed?

       

Have you lost your sex drive?

       

Are you engaging in self-soothing yet potentially self-destructive behavior?

       

Do you have new onset unexplained pain or ache?
If you answered yes to several of these questions it might be worth seeing a professional, because many of these symptoms are consistent with depression.
What is Depression?
Depression is a neurobiological syndrome characterized by some of the symptoms listed above. It is also one of the most treatable mental illnesses. Before you can get a diagnosis of depression and treatment it will be important for other medical conditions to be excluded. Your condition could be related to a medical condition, poor diet, or even a side effect of other medications you are taking. Or, it could be from an imbalance of neurotransmitters and related receptors in your body. Your mood disorder could have even been triggered by a major life event that is not even bad.  As dual certified (family practice and psychiatry) nurse practitioner I can help you with both your physical and psychological needs in the most efficient manner in the privacy of your home with the utmost discretion.
Did you know has had a heart attack or heart-related procedure greatly increases the likelihood of developing depression? Many cardiothoracic experts now realize it is not a question of if their patients will get depression, but when.  There is an effective treatment for mood disorders such as depression which can greatly enhance the quality of your life.
About Metro Medical Direct
Dr. Raymond Zakhari is the owner and operator of Metro Medical Direct and provides Telehealth and in-home visits. He also provides in-home alcohol and drug rehabilitation. Book an appointment here and check out the rest of this site for more information about concierge medicine.
Also, check out Dr. Ray's Podcast The Psychology of it All here. Also available on Apple Podcasts.